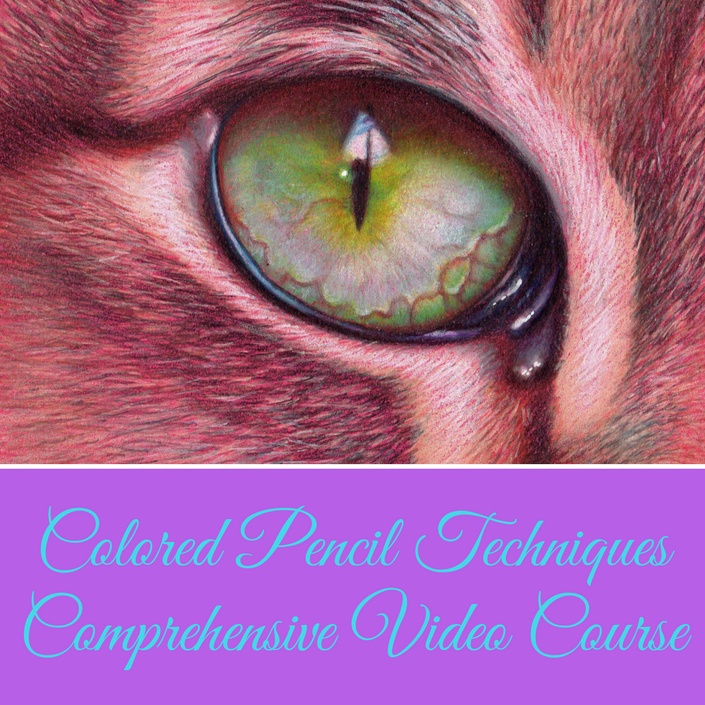 Veronica Winters Complete Colored Pencil Techniques in 90 days:
Comprehensive video course in realist colored pencil techniques and beyond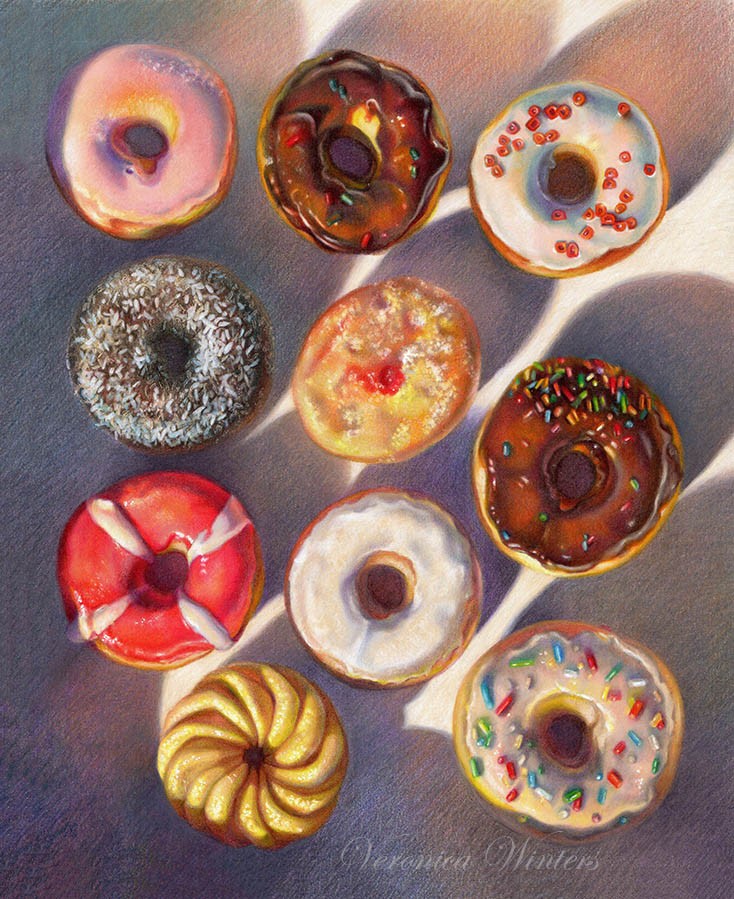 (Project art, lesson 16)
My name is Veronica Winters. I'm professional fine artist, author, art instructor & the creator of this comprehensive video class titled "Veronica Winters Complete Colored Pencil Techniques in 90 days."
My colored pencil techniques video course focuses on major colored pencil techniques and drawing concepts via 16 step-by-step video demonstrations, examples, action steps, and explanations. In this class you'll study composition, light and color harmony. You'll see different formulas for depicting various objects realistically. You'll acquire knowledge how to use tools to create various textures, to blend colored pencils and to describe almost any form realistically.
I give students lineart, materials list and a color chart for every lesson in a downloadable file. Every video lesson is between 25-90 minutes long on average. This course is based on the Colored Pencil Manual art book published by Dover Pub. This video course also features two bonus demonstrations. I recommend to watch one lesson a week to have enough time to practice the steps.
This class is designed for beginners in colored pencil art but not for the absolute beginner in drawing. You must have some basic drawing skills going before proceeding to the colored pencil drawing. Also, please don't skip through the lessons as the course builds up in progression. Don't expect to become da Vinci overnight. It's a lot of work and patience to become good. Be kind to yourself!
My students start learning from scratch that results in through understanding of major colored pencil drawing concepts and techniques that include the following: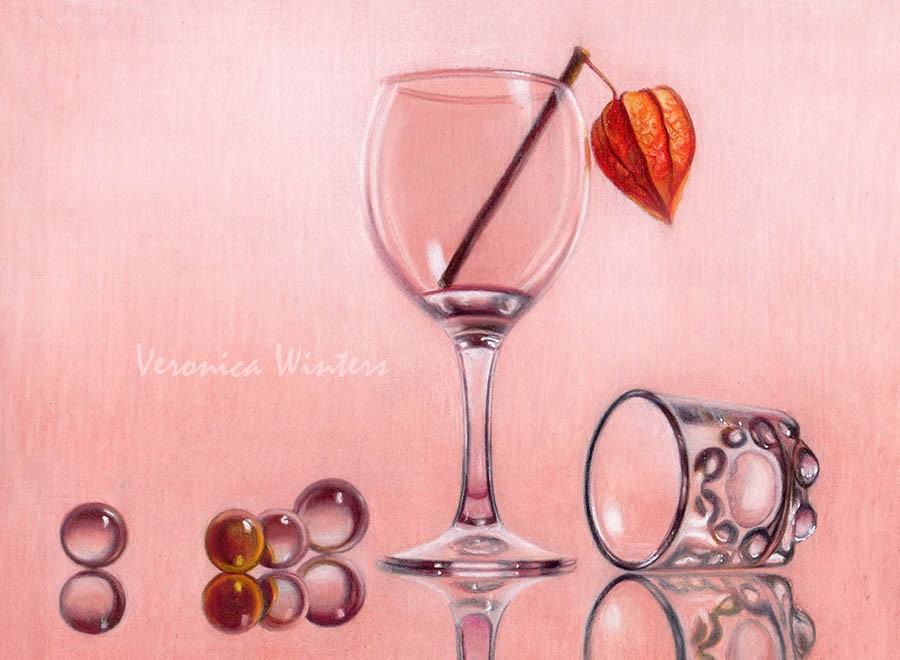 (Project art, lesson 10)

Video Lessons included in this course:
1. Art Materials & How to pick colored paper for your projects
2. Composition & Design principles. Masterworks & my design strategies
3. How to set up the light, turn form, pick pictures & sketch
4. How to turn form & create volume | E
ggs demonstration
5. Color gradation, rubbings | Lemon demonstration
6. Creating volume with pencil direction & strokes | G
reen shell demonstration
7. How to blend colored pencils: with solvents, blender, light colored pencils | G
ummy bears demonstration
8. Color harmony & the Munsell color system | T
wo flowers demonstration
9. How to draw white fabric & the use of grays | W
hite fabric demonstration (slides only)
10. How to create symmetrical shapes, draw glass & underpaint with markers | Wine
glass demonstration (video & slides)
11. How to draw metal reflections | Silver napkin ring demonstration on white paper
12. Working on black | Lion demonstration
13. Drawing crystal on black | Crystal pitcher demonstration
14. How to draw textures: 5 main techniques | Cat's eye & fur demonstration
15. How to draw wood with paper indenting | Wood demonstration
16. How to draw various textures: lifting out, markers & more | Donuts demonstration (released by 7/30/2018)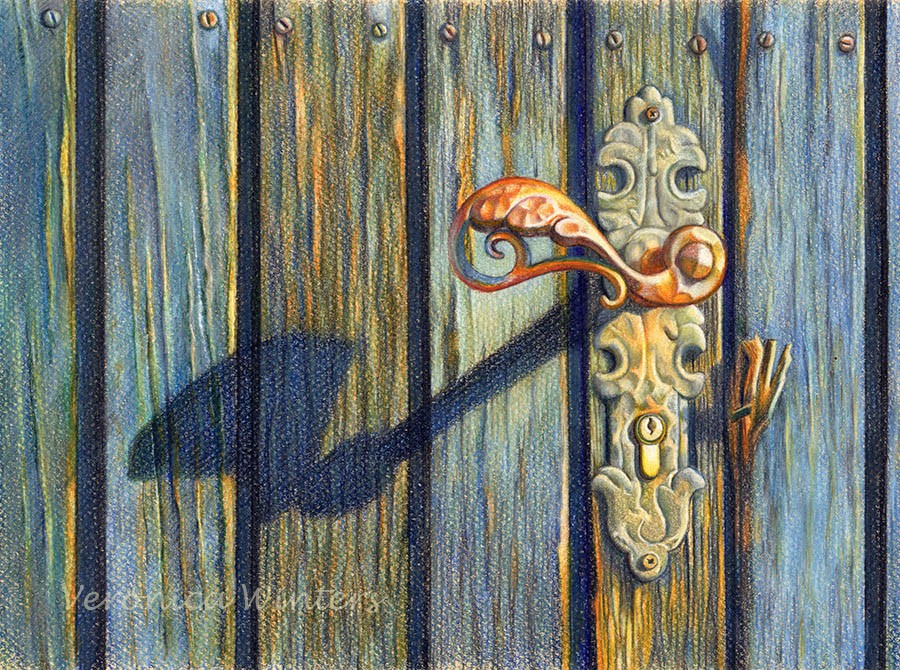 (Project art, lesson 18)

Bonus demonstrations:
17. How to draw textures with white markers | Golden eye demonstration
18. How to draw textures using paper's texture | Door knob demonstration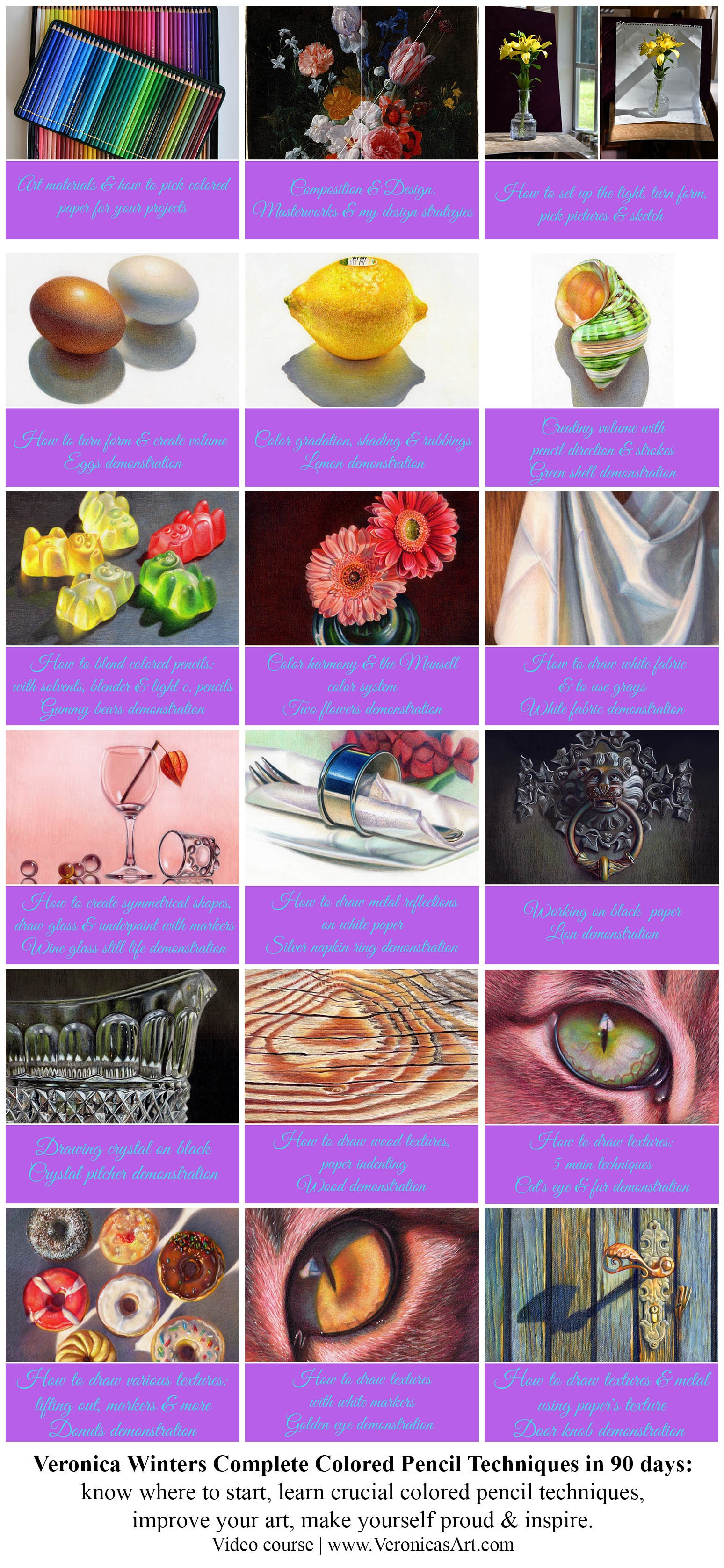 Why I teach
I know how difficult and frustrating the process of learning can be! It took me 5 colleges and almost two decades of my life to learn drawing techniques that I'm going to share with you here! In these pictures you can see where I began artistically and what I can do today. I began teaching in groups and privately in 2004, developing a wealth of experience to accommodate student's needs and pursuits. As an art instructor, I'm here to help you grow your skills. I take the guesswork out and bring my practical knowledge in. I believe my online art school can help so many others to acquire knowledge and skills to become great visual artists. Colored Pencil drawing maybe just a stepping stone or the end pursuit for you, but regardless the outcome I'm so happy to offer my knowledge and service to you!

The release of the "Colored Pencil Techniques in 90 Days comprehensive video course" coincides with the Dover's publication of the art instruction book titled " The Colored Pencil Manual." To learn more, visit my official website: www.veronicasart.com .


Benefits, taking this class:
Systematic approach to learning.

This is a fundamental course in colored pencil drawing that covers a range of subjects.

It delivers tons of knowledge and cuts on years to figure things out on your own.

Self-paced.

Unbelievable Savings.

Lifetime access to class that includes any new updates and downloads.

30-day money-back guarantee.
Yes, there is plenty of information available in blogs, groups, or YouTube videos, and you can certainly learn from it. The downside is that it doesn't have a system of studying necessary drawing concepts, and as a result the information doesn't 'click' in your mind to become useful quickly. You can catch some great tips here and there, but it takes years to consolidate this knowledge into a system that helps you get it right from the start. This class has a progression and builds up in its difficulty level.
The comprehensive video course includes a variety of subjects to draw unlike so many classes out there that focus on a single subject/drawing only. You'll study how to draw popular subjects that include glass, cups, fruit, flowers, metal and many more!
Yep. It took me nearly two decades to learn how to draw realistically. Do you wish to sacrifice that much time learning the colored pencil techniques? Hope not. By taking this online course, you're gaining insight into the most important drawing concepts. When you combine it with your effort and constant practice, the sky is the limit.
No need to stress over the deadlines completing this class. No hassle. Watch and draw in the comfort of your home whenever. Wherever.
Average college art class cost is $2,000. By taking this comprehensive online course, you have no need to pay for expensive classes, workshops or accommodations and travel.
Yep. Watch it from any device and at any time, even after a year from a purchase date.
I'm so confident you'll find this class invaluable for your artistic development, I offer this great introductory price and a return policy. Knowledge guaranteed or your money back!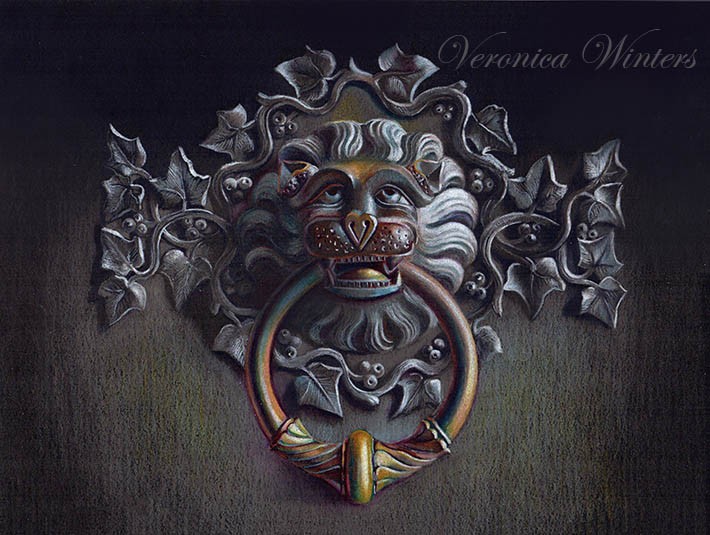 (Project art, lesson 12)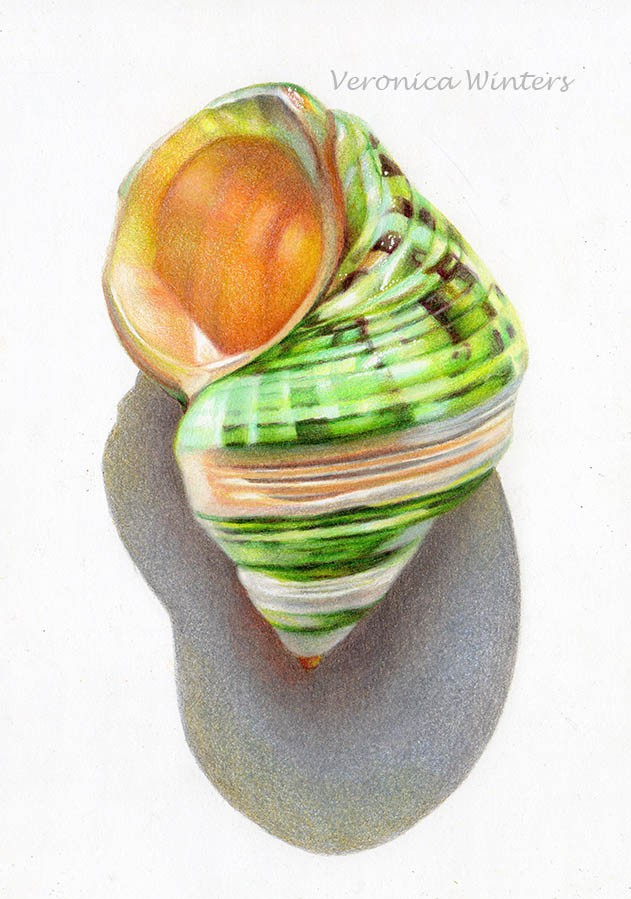 (Project art, lesson 6)

Your Instructor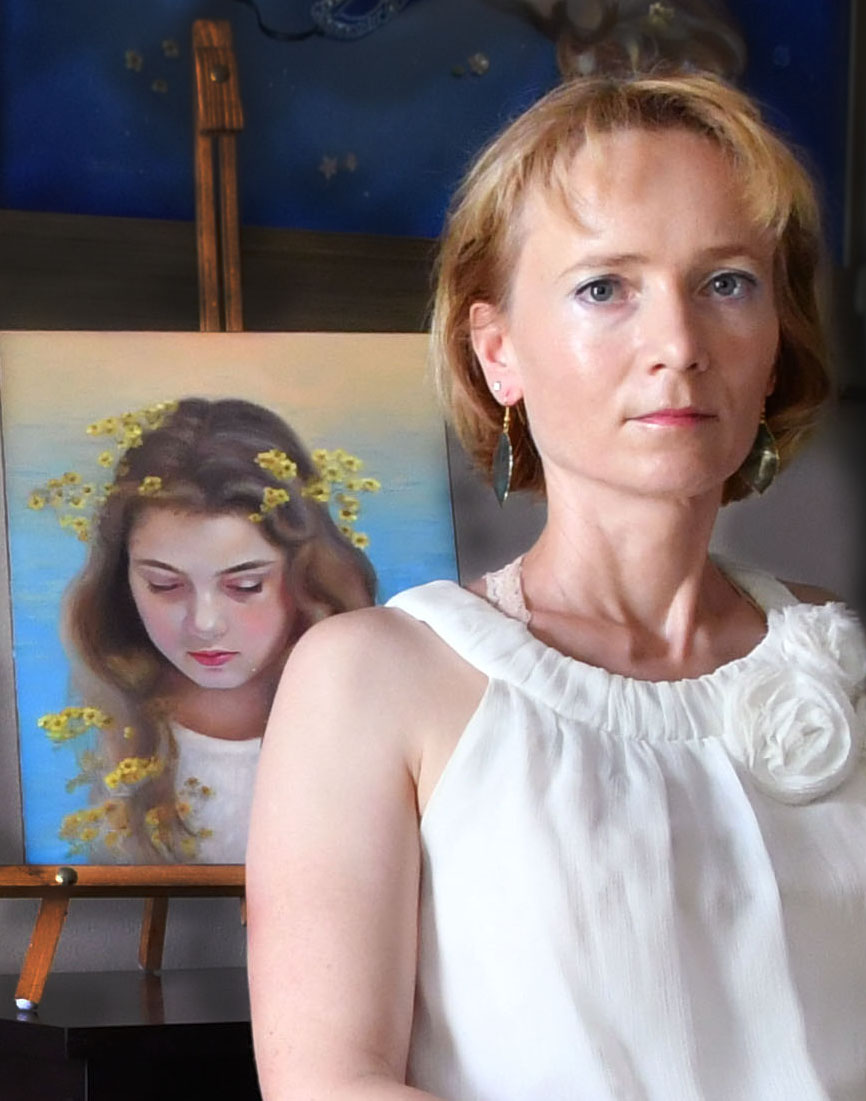 Russian-American realist painter, Veronica Winters was born and raised in Moscow. She immigrated to the U.S. in her early twenties to pursue her calling in art. She holds a B.F.A. degree in studio art from Oklahoma State University and an M.F.A. degree in painting from Penn State in 2005. Veronica also studied classical drawing and painting techniques at the Grand Central Academy of Art & the Art Students League of New York. Veronica's art has been published in numerous magazines and books, including Strokes of Genius, Leisure Painter, Colored Pencil Magazine, Dover publications, and American Art Collector. Veronica creates romantic realism paintings of women in her studio in Naples, Florida.
As an art instructor, Veronica aims to give her students solid technical skills to pursue their creativity with maximum potential. The artist has begun teaching in groups and privately since 2004, developing a wealth of experience to accommodate every student's unique needs and pursuits.
Contact & Follow:
Artist helps students via email one-on-one instead of using the Facebook group.

E-mail: [email protected] | www.VeronicasArt.com |
YouTube: veronicasart | Facebook: veronicasart | Instagram: paintingfemininebeauty

Frequently Asked Questions
Whom is it for?
This class is designed for a serious beginner in colored pencil art but not for the absolute beginner in drawing. You must have some basic drawing skills going before proceeding to the next step - the colored pencil drawing.
When does the course start and finish?
The course starts now and never ends! It is a completely self-paced online course - you decide when you start and when you finish.
Is there a one-on-one feedback or critiques from the artist?
While I answer questions in my Facebook group, I also give two one-on-one thorough critiques a month when you purchase a VIP edition of the course. The critiques are available via e-mail, skype or Facebook messenger within the first 6 months of the purchase.
How long do I have access to the course?
How does lifetime access sound? After enrolling, you have unlimited access to this course for as long as you like - across any and all devices you own.
What if I am unhappy with the course?
We would never want you to be unhappy! If you are unsatisfied with your purchase, contact us in the first 30 days and we will give you a full refund. No refunds after 30 days of purchase.
How is it different from "the Colored Pencil Manual" art book by Dover Publications?
#1 The video course is in a video format, allowing you to see and study drawing directly. Every lesson that includes a demonstration runs between 55 and 90 minutes. That's a lot of minutes to study the nuances and details in colored pencil drawing! #2 Feedback & support direct from the artist via Facebook group, if you take the course. #3 The video class also has 2 bonus demonstrations, not included into the book. "The Colored Pencil Manual" is great for students on a budget and makes a great gift for any artist at heart!
Is there an age restriction for taking this class?
This comprehensive video course is teen friendly. Anyone who is serious about his/her pursuits can take this course. I recommend it for students 13 and over.
What if I don't have the money to pay for the class in full now?
No problem. You can check out making two easy payments!
In the end of this class you'll see a definite, positive change in your art. Students improve their shading, color, and blending techniques. They acquire skills to create various textures and to draw almost any form realistically.
Take your colored pencil drawing to the next level. Study shading and color with me today! Cut on years of trial and error, and learn direct from the artist. Enroll now!
Also, by enrolling into this course today, you pay an introductory price, which may increase soon. As a bonus, for a limited time the artist helps every student one-on-one via email, not the group.